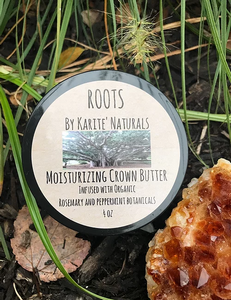 Roots Crown Butter
Ingredients: Beeswax, Vegetable Glycine, Sunflower Oil, Coconut Oil, Olive
Oil, Shea Butter, Castor Seed Oil, Vitamin E, Rosemary Essential Oil, Peppermint Essential Oil, Natural Fragrance Blend.
Sunflower oil in a super-food when it comes to Vitamin E. Sunflower Oil naturally one of the highest forms of Vitamin E in comparison to other carrier oils thereby, making it a great hair emollient.  Vitamin E acts as a powerful emollient. Therefore, sunflower oil for hair prevents natural moisture loss and has a softening effect. Sunflower oil is rich in linoleic acid and Omega 6. It is extremely beneficial in preventing thinning hair because of the Omega 6. Coconut oil stimulates hair growth getting deep into its follicles. Coconut oil promotes scalp health. It is one of few substances that can actually penetrate the hair follicle. It can strengthen and repair your hair from the inside out. Part of the reason why coconut oil is so effective at repairing hair is because it mimics sebum. This is a natural substance that your hair produces to replenish itself and keep things balanced. Castor oil's antiviral, antibacterial, and antifungal properties make it an effective treatment for scalp infections.