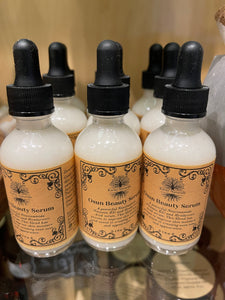 Osun Beauty Serum 2 oz
Osun Beauty Serum is a amazing niacinamide (Vitamin B3) serum.  Niacinamide has been shown to improve skin moisture and assist in creating an even skin tone and appearance.
The Niacinamide in our Osun Beauty Serum is supported by Hyaluronic Acid and Avocado Oil which increases hydration and can smooth and tone appearance. 
Product Highlights:
Formulated to help soften, smooth, and bring balance to skin tone and texture
Effective concentration of 5% Niacinamide
Contains Hyaluronic Acid for boosted hydration support
Includes soothing Organic Aloe and moisturizing Avocado Oil
A customer favorite and routine bestseller
5 Star Ingredients:
Niacinamide (Vitamin B3)
Hyaluronic Acid
Organic Aloe
Avocado Oil
Directions for Use A.M.:
Moisturize the skin on your face and neck with this serum every morning after you cleanse and tone. Place a pea-sized amount of Osun Beauty Serum onto your forehead and spread evenly over your face without pulling down on the skin. Follow with daily moisturizer. (Osun Beauty Oil suggested)
Directions for Use P.M.:
Follow your A.M. routine in the PM for best results. Especially if you wear make up. You want to properly cleanse and moisturize your skin in the evening before bed.
*Individual results vary. We suggest taking a before and after picture to best see results after 2 weeks - 1 month of consistent use.  If you share your photo with us in a review you will receive a discount on your next purchase.