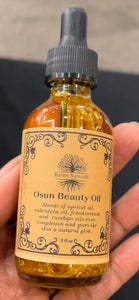 Osun Beauty Oil
Product Highlights:
Our Osun Beauty Oil is Infused with calendula for 6-8 weeks. Then calendula is added to the final product to further enhance its properties.  Calendula infused oil is a natural remedy, which contains anti-inflammatory and antiseptic properties. It can soothe skin inflammation that is triggered due to acne, sunburn, rosacea, psoriasis, eczema, or even a breakdown of collagen. Calendula contains flavonoids, saponins and triterpenoids, which are known to have an anti-inflammatory effect.

Calendula oil in known to have skin healing properties, which helps to relieve dryness, flaking and can even skin tone. The healing properties come from the calendula's ability to increase blood flow and oxygen to the skin. Which promotes healing. It can heal and reduce scaring, cuts, bruises and give your skin a natural glow.  The healing properties are amazing
5 Star Ingredients:
Calendula infused olive oil, Sunflower oil, Apricot Kernel Oil, Rosehip oil, Frankincense essential oil and calendula flowers. 
Directions for Use A.M.:

Place a pea-sized amount of oil on your forehead and spread evenly over your face  and neck without pulling down on the skin.
Directions for Use P.M.:
Follow same AM routine in the PM. Especially if you wear makeup. Cleanse skin with our Aloe and Calendula soap, or any of our natural soaps. Follow with our Osun toner and serum and then apply Osun Oil as neeeded.