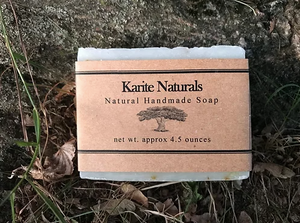 Natural Shea Butter Soap
(Vegan, All Natural)
Ingredients: Olive Oil, Water, Coconut Oil, Shea Butter, Sodium Hydroxide, Organic Palm Oil.
Shea butter comes from the nut of the Karite tree that is indigenous to Africa. Raw, unrefined Shea butter contains vitamins and minerals such as vitamins A and E, as well as essential fatty acids. It has been used for centuries for its moisturizing, anti-inflammatory and anti-aging properties. Shea Butter is known for improving a number of skins conditions, including blemishes, wrinkles, eczema, and dermatitis. All ingredients are natural. No chemical, dyes or fragrances are added. All ingredients are from a tree, herb, flower or fruit. The Shea butter used in my products is unrefined which mean is has been keep as close to its natural state as possible to maintain the healing properties. It is also Fair Trade.
Customer Reviews
Wonderful soap
We've been looking for a way to move away from plastic bath gel bottles and get good soap that is unscented that still did the job. We first used Karite after seeing their soaps in the mall. With covid and social distancing I was hoping they had a website - they did! We ordered our favorite soaps - shea butter and the oatmeal. Both unscented. Gentle on our sensitive skin. And no more plastic bottles. Win win win. Will be ordering more.