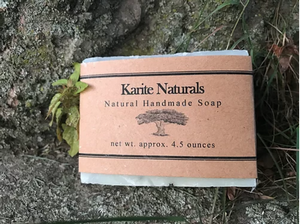 Natural Oatmeal and Goats Milk Soap
Oatmeal Unscented (All Natural)

Ingredients: Olive Oil, Coconut Oil, Water, Sodium Hydroxide, Organic Palm Oil, Fresh Goat Milk, Organic Sunflower Oil, Shea Butter, Colloidal Oats.

Colloidal oatmeal, a natural product produced from finely ground oat grains that are boiled to produce an extract, is full of vitamins, minerals and lipids that add moisture to benefit the condition of one's skin. Oatmeal contains both anti-inflammatory and antioxidant properties and is ideal for sensitive skin and can help heal a variety of skin disorders (i.e sunburns, eczema and poison ivy. Oatmeal can also help normalize your skin's pH, which can relieve itchy, uncomfortable skin. Goat Milk has been used since ancient times as a natural cleanser. It is one of the finest moisturizers and has excellent emollient properties. Goat Milk contains vitamin A, and several B vitamins including riboflavin, niacin, B6, B12. Vitamin A is extremely important in skin care and aids in curtailing acne and may also help with eczema. Water based soaps can add vitamins, but most don't so this benefit is lacking.

Goat milk is believed to have rejuvenating effects on skin cells and the rich butterfat softens and moisturizes. Alpha-hydroxy acid in goat milk penetrate the top layers of the skin, epidermis and upper dermis, to achieve exfoliation (sloughing of old skin cells). Exfoliation stimulates the skin and healthy cells are regenerated.
Customer Reviews
04/04/2021
Simone A.

United States
Hubby loves this one
This is my husband's favorite. He says it washes off cleanly. There is no after smell unlike other soaps he's used in the past. He also prefers it for shaving as well.