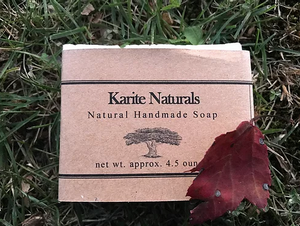 Natural Mango Soap
Mango with aloe (Vegan)

Ingredients: Olive Oil, Water, Coconut Oil, Sodium Hydroxide, Organic Palm Oil, Organic Sunflower Oil, Shea Butter, Natural Fragrance, Organic Aloe Concentrate, Annatto Powder.
All natural handmade soaps. Made with Shea butter, olive oil, coconut oil, organic palm oil, organic sunflower oil, and essential oils.All soaps are fragrance, synthetic colorants and chemical free. All scents are from essential oils and natural colorants are from plants, flowers, herbs and seeds. Please email me with any questions.
Customer Reviews
Natural Soaps and Body Butters
I've been using both Karite Natural Soaps and Body Butters for a few years and both products are absolutely wonderful for my skin. Every soap selection is moisturizing, and gentle and very lightly scented with natural ingredients. I use the body butter on my face and neck after every shower or face wash, and on the backs of my hands and feet when they are dry. What a difference in my skin...soft, supple. Give the products a try , you will not be disappointed!