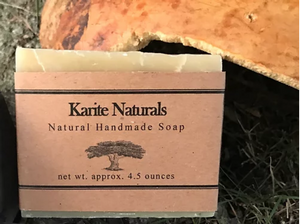 Natural Lemongrass Soap
Lemongrass (Vegan, All Natural)

Ingredients: Olive Oil, Water, Coconut Oil, Sodium Hydroxide, Organic Palm Oil, Organic Sunflower Oil, Shea Butter, Lemongrass Essential Oil, Lemongrass Herb.
Lemongrass essential oil is known to have anti-fungal, insecticidal, antiseptic, and anti-inflammatory properties. Lemongrass may prevent the growth of some bacteria and yeast and it has antioxidant properties. It contains substances that are used to alleviate muscle pain, reduce fever. Lemongrass essential oil is a source of essential vitamins such as vitamin A, B1, B2, B3, B5, B6, folate and vitamin C.

It also provides essential minerals such as magnesium, phosphorous, manganese, copper, potassium, calcium, zinc and ironThe calming and mild smell of lemongrass oil is known to relieve anxiety, irritability, and insomnia. The sedative and hypnotic properties of lemongrass oil can help to improve the duration and quality of sleep and may relieve stress.