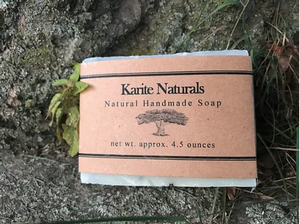 Natural Lavender Soap
All natural Vegan
Ingredients: Olive Oil, Water, Coconut Oil, Sodium Hydroxide, Organic Palm Oil, Shea Butter, Lavender Essential Oil, Lavender Buds, Lavender Powder.
Lavender essential oil has a calming scent which makes it excellent for relaxing the nerves and anxiety issues. It can also be helpful in treating migraines, headaches, depression, nervous tension and emotional stress. The refreshing aroma removes nervous exhaustion and restlessness while also increasing mental activity. Lavender essential oil can be used to treat various skin disorders such as acne, wrinkles, eczema, psoriasis, and other inflammatory conditions. It is commonly used to speed up the healing process of wounds, cuts, burns, and sunburns because it improves the formation of scar tissues.