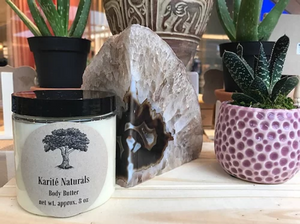 Natural Handmade Neem Body Butter
Ingredients: Unrefined Shea Butter, Unrefined Organic Coconut Oil, Olive Oil, Grapeseed Oil, Lemongrass Essential Oil.
This butter is formulated to address dermatitis such as eczema. Shea butter is the primary ingredient in the body butters. Shea butter comes from the nut of the Karite tree that is indigenous to Africa. Raw, unrefined Shea butter contains vitamins and minerals such as vitamins A and E, as well as essential fatty acids. It has been used for centuries for its moisturizing, anti-inflammatory and anti-aging properties. Shea Butter is known for improving a number of skins conditions, including blemishes, wrinkles, eczema, and dermatitis. All ingredients are natural. No chemical, dyes or fragrances are added. All ingredients are from a tree, herb, flower or fruit. The Shea butter used in my products is unrefined which mean is has been keep as close to its natural state as possible to maintain the healing properties. It is also Fair Trade.
Customer Reviews
03/17/2023
Darlene T.

United States
Skin so soft
I suffer from eczema as well as my granddaughter, and my son this product has our skin feeling so soft I would not use anything else.
03/09/2022
Deb C.

United States
Love, love, love the body butters!!
I have used Karite body butters on my face, neck, shoulders, chest area and hands for several years and really can't say enough about how wonderful my skin feels and looks. It's gentle, without heavy fragrance, and truly natural. I won't use anything else, ever. All the natural soaps are just as wonderful.