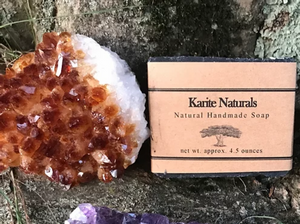 Natural Handmade Activated Charcoal
Peppermint Tea Tree with Activated Charcoal 85% Organic Ingredients (Vegan, All Natural)
Ingredients: Organic Palm Oil, Water, Organic Sunflower Oil, Organic Coconut Oil, Sodium Hydroxide, Organic Olive Oil, Essential Oils of Peppermint, Tea Tree and Cajeput, Activated Charcoal
Activated charcoal has super absorbency and antibacterial properties which makes it an ideal ingredient to be used on our skin.When used as a charcoal soap, this ingredient is capable of removing acne and bumps from your skin, leaving it smooth and healthy. It can also be used to reduce pigmentation and tighten your skin. Your skin is a living organ which has pores. These pores and the skin's permeable membrane allow bacteria, chemicals, and other toxins to pass in and out of your body. Acne is caused by blocked pores, dirt and bacteria, existing on the surface of the skin. It's also caused by excess sebum/oil on the surface, as well as lack of a healthy diet. Applying activated charcoal soap on your skin can help solve this problem. With super absorbency and antibacterial properties, the soap is capable of removing detritus from your skin surface, as well as penetrating beneath the skin to remove toxins and other harmful chemicals. The health benefits of Tea Tree or Melaleuca Essential Oil can be attributed to its properties as an antibacterial, antimicrobial, antiseptic, antiviral, balsamic, cicatrisant, expectorant, fungicide, insecticide, stimulant and sudorific substance. Melaleuca oil is almost always associated with the skin in some way, because it has powerful antioxidant properties that can significantly improve the appearance of blemishes and scars. Many people struggle to eliminate age spots and other beauty marks, but the powerful antioxidants found in melaleuca oil can quickly remedy those issues, leaving your skin looking young and smooth. In fact, melaleuca oil can even help reduce the appearance of wrinkles as we age.
Customer Reviews
06/21/2021
Kristin C.

United States
The best
I love this charcoal face wash because it last longer than any other product I've tried to use for half the price, and it leaves my skin feeling fresh yet moisturized. I keep coming back!
04/26/2021
Oasha W.

United States
Very powerful activated charcoal soap
I felt a slight tingling & after the first use, I noticed toxins coming to the surface of my face the next morning, which means it really worked deep into my pores! I will definitely be ordering again!