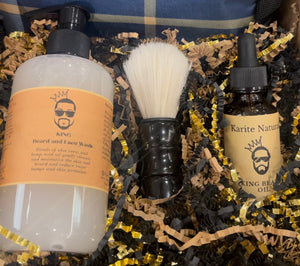 KING Beard Wash 16oz
Introducing our exceptional Beard Wash, a powerful blend of natural ingredients designed specifically for the care and maintenance of dour Kings. Crafted with the finest ingredients, including hemp oil, aloe vera, coconut oil, and tea tree, our beard wash provides a revitalizing cleansing experience like no other.
Nourish and Strengthen: Infused with hemp oil, our Beard Wash penetrates deeply to nourish and strengthen each strand of facial hair. Experience a softer and healthier beard. 
Soothing and Hydrating: Enriched with aloe vera, our beard wash soothes the skin beneath your beard, reducing irritation and dryness. It restores moisture and provides a calming effect, ensuring that your beard feels comfortable.
Gentle Cleansing: Our beard wash harnesses the natural cleansing power of coconut oil, gently removing impurities and dirt without stripping away essential oils. Say goodbye to oI'll build up and hello to a clean, refreshed beard that maintains its natural shine.
Tea Tree Freshness: The invigorating scent of tea tree oil revitalizes your senses and leaves your beard smelling fresh and clean.
Manageability and Style: With our beard wash, grooming becomes a breeze. It effectively softens and detangles your beard, making it easier to style and manage. Experience a beard that looks effortlessly groomed and well-maintained. Follow up with our beard oil or balm to condition your beard  and leave you with a tantalizing  and irresistible scent of fresh kumquats.
Ingredients: Organic Aloe Vera Juice, Cocamidopropyl Betaine, Sodium Decyl Glucoside, Sodium Lauroyl Lactylate, Kosher Vegetable Glycerin, Organic Hemp Seed Oil, Ethylhexylglycrin & Phenoxyethanol (Ecocertified Paraben Free Preservative).
(BEARD WASH ONLY KIT SOLD SEPARATELY)