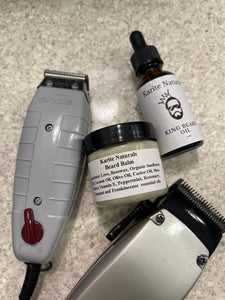 KING Natural Beard Balm 2 oz
Ingredients: Beeswax, Vegetable Glycine, Sunflower Oil, Coconut Oil, Olive
Oil, Shea Butter, Castor Seed Oil, Vitamin E, Rosemary Essential Oil, Peppermint Essential Oil, Kumquat Natural Fragrance Blend.
Our premium beard balm is crafted to perfection with a unique blend of natural ingredients to enhance your beard care routine. Our beard oil is formulated to …
Promote Growth: Infused with castor oil, our beard balm can stimulates hair follicles and encourage healthy and robust beard growth. Say goodbye to patchy areas and hello to a fuller, more luscious beard.
Moisturize and Nourish: Dry and brittle beards are a thing of the past. Our beard balm deeply moisturizes both your facial hair and the underlying skin, keeping your beard soft, smooth, and manageable. Embrace a beard that feels luxurious to the touch.
Invigorating Aroma: Enjoy the invigorating scent of our beard balm, thanks to the refreshing combination of kumquat, rosemary and peppermint. This pleasing fragrance leaves your beard smelling sexy making it an absolute delight for you and those around you.
Combat Razor Bumps: say farewell to the discomfort of razor bumps with our beard balm. Its soothing and anti-inflammatory properties can work wonders to reduce irritation, and bumps caused by shaving. Experience a more comfortable grooming experience.
Hydrate the Skin: Our beard balm isn't just about beard care; it's about overall skin health too. The vitamin E present in our formula deeply hydrates the skin beneath your beard, preventing dryness and flakiness. Rejuvenate your skin for a healthy and glowing complexion.
Revitalize Your Beard. Rejuvenate Your Skin. With our all-in-one beard balm, you'll achieve the beard of your dreams while enjoying a fresh scent and improved skin health. Embrace a well-groomed and confident look with our premium beard balm. Try our beard oil and Beard Wash too!