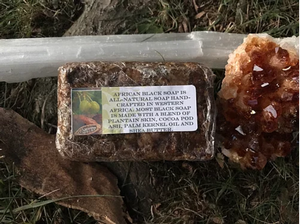 Authentic African Black Soap
African black soap has been used for generations in western Africa. The pure and raw traditional African black soap is from western Africa. The raw soap doesn't look like regular bar soap. Traditional black soap, even when cut into bar form, is rarely smooth or uniform in shape. African black soap comes in different shapes, colors and sizes depending on the mixture. The texture of the soap should be soft and at times it is a bit crumbly but never hard like regular bar soap. The soap doesn't contain artificial coloring or preservatives. African black soap has naturally occurring lye found in the plantain or wood ashes.

While it is called black soap and can get very dark in color, it is never actually pure black. Black soap varies from light brown to deep black in color, depending on the ingredients used and the method of preparation, but the raw form is probably not going to be uniformly black. In the process of creating black soap, plantain leaves are sun dried and then burned into ash. The longer the plantain is roasted, the darker the soap will be. The use of different oils in the recipes (which also vary by region) can also result in color variations.
African black soap contains shea butter, which moisturizes skin but doesn't clog pores. Shea butter gives the soap some UV-protection properties, but not enough to replace your usual sunscreen. African black soap also contains coco pad ash and palm leaves. African Black Soap soap may fade skin discoloration and dark spots. The soap cleanses gently, so it's ideal for people with rosacea, rashes, dryness and other skin conditions. African black soap contains plantain skins and leaves, which has antibacterial properties that may help treat acne breakouts. Black Soap can also be used as a shampoo or mild makeup remover.