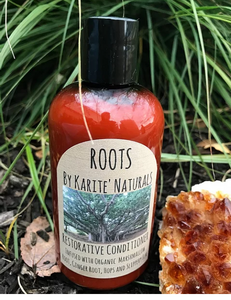 Roots Restorative Conditioner
Ingredients:
Aloe Vera, Behentrimonium Methosulfate (conditioner-softener) Cetearyl Alcohol (Fatty Acid), Stearic Acid, dl-Panthenol, Polyquart 10, Kosher Vegetable Glycerin, Castor Oil, Sunflower Oil, Ethylhexylglycerin, Phenoxyethanol (Eco-certified gentle preservative), Rice Bran Oil, Vitamin E, Marshmallow Root, Hops, Ginger Root, Slippery Elm, Peppermint and Rosemary Essential Oils, and Natural Fragrance Blend.
Roots Restorative Conditioner contains natural ingredients that provide moisture to the hair and supports the natural oils of the scalp. Roots conditioner is infused with herbal extracts of Rosemary and Peppermint, which strengthens the hair and scalp. And are known to stimulate hair growth. Roots Conditioner is also infused with marshmallow root, ginger root, hops and slippery elm. Which all work together to increase moisture and stimulate hair growth by providing the necessary nutrients to feed and support a healthy scalp. Roots Conditioner is formulated to strengthen new growth and moisturize dry, brittle and damaged hair without leaving a heavy build up on the hair and scalp. Roots conditioner will leave your hair feeling soft, moisturized and manageable.