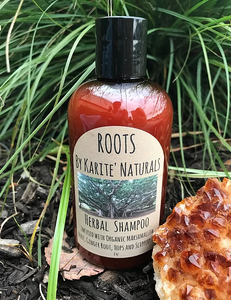 Roots Natural Shampoo
Ingredients: Aloe Vera Juice, Cocamidopropyl Betaine, Decyl Glucoside, Sodium Lauroyl Lactylate, Kosher Vegetable Glycerin, Castor Oil, Olive Oil, dl-Panthenol, Polyquart 10, Ethylhexylglycerin, Phenoxyethanol(Eco-certifed, gentle, paraben free preservative), Marshmallow Root, Ginger Root, Hops, Slippery Elm, Essential Oils of Rosemary and Peppermint, Natural Fragrance blend.
Karite Naturals Roots Shampoo contains natural ingredients that are not drying to the hair and does not strip the hair of natural oils. Roots Shampoo is infused with herbal extracts of Rosemary and Peppermint Essential oils, which strengthens the hair and scalp. And are known to stimulate hair growth. Roots Shampoo is also infused with marshmallow root, ginger root, hops and slippery elm. Which all work together to increase moisture and stimulate hair growth by providing the necessary nutrients to feed and support a healthy scalp. Karite Naturals Shampoo is formulated to strengthen new growth while gently cleaning dry, brittle, damaged hair. It removes heavy build up from hair and scalp. While not striping the natural oils. Leaves hair feeling clean, soft, moisturized and manageable. 
Customer Reviews
11/14/2022
Cassandra Kody.
Best products
Favorite shampoo.